Local Area
Siedlisko Nad Rozlewiskiem location makes an ideal base to allow for planning of interesting hiking, cycling, kayaking and car tours.
We recommend:
The Turquoise Lake
The Wapnica village the site of the former mine chalk turquoise lake formed also known as the Emerald of unusual color of water. It belongs to the most beautiful Wolin's National Park lakes.
Zielonka Hill
Zielonka is seated in the village of Lubin. From there you may admire a very picturesque panorama over the Szczecin Lagoon with pools of the backwards delta of Świna and Lake Wicko Wielkie. Insular riverside areas are considered "European bird areas" and constitute one of the most important parts of the Wolin National Park.
Mount Gosań
Located only 4 km off Międzyzdroje is the highest hill on the Polish coast with a spectacular view over the Pomeranian Bay, Międzyzdroje, Świnoujście and German Ahlbeck.
Lighthouse
It was constructed in 1857 and, being 68 m high, it is the highest facility of this kind in the Baltic coast and one of the highest in the Word.
Stawa Młyny
The most recognized symbol of Świnoujście, which is also the official logo of the town. "Fan" is located on the end of a stone breakwater West (with a length of approximately 350 m), built between 1818-1923.
Angel Fort
This part of Świnoujście fortification system was supposed to protect other forts from ground attacks. This Prussian fort was build in 1854 on Uznam Island. Main building is few stories high and resembles old castle. Inside fort there's a small museum and a cafeteria. Many times you can see here some special events, exhibitions of contemporary painting, photography and barbecues.
Gerhard Fort
Eastern artillery fort was build in 1853 to protect entrance to the port. It was part of Świnoujście fortification system. Today it's a tourist attraction, where you can move yourself to XIX century and see how life of Prussian soldier looked like (well at least the fun part of it). Employers are walking in old Prussian uniforms and interact with tourists. You will also be able to take part in games like "crossing the bridge", "mine field" etc. It is a lot of fun plus you'll learn some history.
Świnoujście
Summer capital of West Pomerania, a remarkable resort with a 150-year tradition. Świnoujście is situated in the Land of 44 Islands – it is the only place in Poland of such exceptional insular character. The Land consists of several dozens of islands and islets of which three are inhabited. Those are – Uznam, Wolin, Karsibór. Only small part of Uznam island ('Usedom' in German) is Polish (41km2) whereas the remaining part belongs to Germany (383km2).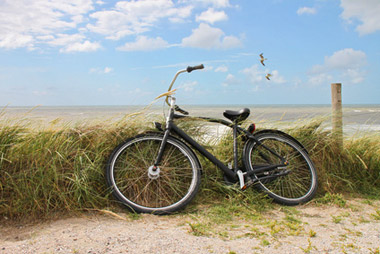 Karsibór Island
The third inhabited island is Karsibór (14km2). It was formed as a result of digging 7,5 long Piastowski Channel and cutting off the south-east part of the Uznam island which improved and shortened navigation to Szczecin. Insular character of Świnoujście, variety of landscapes and surrounding nature makes the stay here unique and unforgettable, no matter whether you opt for active rest or you prefer to focus on your health and beauty.
Imperial resort Ahlbeck, Heringsdorf and Bansin
Three German village joined together along the promenade. Staying with our neighbors, the aesthetic experience, especially those sensitive to architectural qualities of the buildings. Called "imperial" obtained through a number of the most famous emperors of Germany-Wilhelm I, Wilhelm II, Frederick III. Each village has its own pier from where you can admire the panorama of the Baltic Sea.
Butterfly farm in Trassenheide
Butterfly farm in Trassenheide is the largest of its kind in Europe, where you can admire species of butterflies from around the world! The largest butterfly farm in Europe is located in the town of Trassenheide on the German island of Usedom. Its area is more than 5,000 square meters. Definitely a perfect place for a family trip and will certainly make fun for every child !