Rooms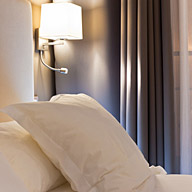 Siedlisko Nad Rozlewiskiem has 3 studios in which depending on your needs may stay 2, 3 or 4 people. Two of them with mini terrace and with a wonderful panoramic view over the pool. All are located in the original building dated 1920 made of bricks.
A former farm building - a part of pre-war property - has been adapted into an unforgettable space full of secrets and surprises, focusing on pleasant stay of our guests ensuring comfort and privacy.
All rooms in Siedlisko Nad Rozlewiskiem are decorated in an elegant, unique style. Each has a dining area and a fully equipped kitchen which includes a fridge, cooker, electric kettle and microwave. All rooms are equipped with flat-screen TV with cable channels, radio and free Wi-Fi. The bathroom has a shower/WC and towels.
Each Guest has the opportunity to use a bike or rowing boat for free.
For all our guests is also available a veranda overlooking the water, with full kitchen facilities and a dining room and a spacious garden with a seating area and barbecue. It is a place of integration and meeting our guests, where everyone can fry or bloat own caught fish and spend nice time.